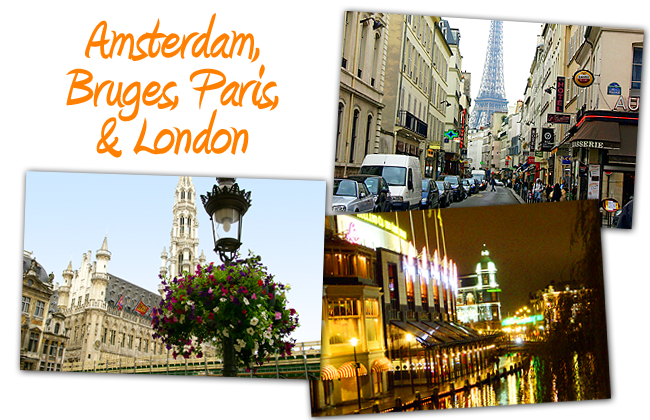 November 6 - 14, 2017
$1,951 per person, double occupancy


Includes round trip air from St. Louis
Join us for a 9 day trip to Amsterdam, Bruges, Paris, and London! The trip includes a glass-top boat and cruise on Amsterdam's winding canals, the Grand Place in Brussels, the iconic Eiffel Tower, the London Eye, and much more!
More details and the full itinerary
.
All Available Hot Deals:
London & Paris by Rail
February 20 - 27, 2018
$1,510
Affordable Ireland
March 5 - 13, 2018
$1,486
Central Europe
March 6 - 13, 2018
$1,329
Germany
March 15 - 22, 2018
$1,606
Off Season France Escape
March 17 - 24, 2018
$1,808
Greece
March 27 - April 3, 2018
$1,956
London Culture & Theatre Tour
April 25 - May 1, 2018
$1,453
Grand Canyon, Bryce Canyon, & Zion National Parks
May 2 - 10, 2018
$1,952
Hong Kong & Bangkok
September 18 - 26, 2018
$2,085
Spain
October 31 - November 7, 2018
$1,767
Central Europe
October 31 - November 7, 2018
$1,549



prices listed are per person, double occupancy